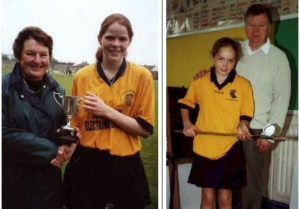 The Carr Sisters Left: Fionnuala Carr lifts the Feis 7s Minor Trophy in 2000
Right: Sara-Louise Carr is pictured with Primary School Principal, Gregory Hanna. It is  the second year in a row St Patrick's PS had a representative in the INTO Mini Sevens – All Ireland Hurling Final Day 2000.  Sara-Louise also won the County Feile Skills title.
Fionnuala and Sara-Louise are the daughters of Ross and Teresa.
By clonduffgac1887
Fri 12th Apr