The Clonduff Crest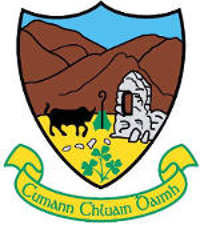 Cluain Daimh – Meadow of the Ox – It is recorded that St Comghall of Bangor sent his followers to this area of Co Down to spread Christianity. They began building a church but every morning, the previous day's work would be demolished. Upon investigation, it was discovered that an ox, belonging to the local Druid came down from the mountain (The Mournes) each night and razed the building. One of the monks cut a thorn stick and stuck it into the ground between the ox's meadow and the new church.
The stick grew into a thorn bush and the monk defied the ox to pass the thorn bush – it never did and the building of the church was completed. The area where the thorn bush allegedly grew is known as Bushtown to this day. This church is believed to have been situated in the minor townland of Ballycommogue on the border of Ballynanny and Ballyaughian and is believed to take it's name from a 7th Century monk called Mo Chomóg – perhaps the same monk that defied the ox! (Ballycommogue mentioned in Place Names of Northern Ireland by Mícheál B Ó Mainin)
In the two years of research leading to the publication of "Sceal Chluain Daimh" Part 1, the award-winning history of the Clonduff Club, the researchers – Fintan Mussen, Jerry Quinn and Hugh John Harper – decided the Club needed a unique crest. They sought the help of Fintan's wife Margaret who, just 24 hours later came up with the current crest. which depicts the mountains, the bull, the bishop's crozier and the remains of a later church, destroyed by Cromwell's army around 1650 and is located in Ballyaughian/Ballynanny (but not in Ballycommogue) on the Kilkeel Road end of the Old Clonduff Road.
Dr Ciarán Dunbar's Clonduff Blog as Gaelige