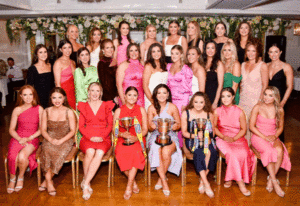 This bunch of beauties are not often seen in such fine raiment – they are more likely to be seen wearing scorts and weilding Camogie Sticks!
The 'May Ball' was a great way to celebrate the winning of their second All Ireland Intermediate Club title, thus gaining admission to the All Ireland Senior Club Championship! It was such a fun night, with great food, friends and frolics from the 'Flash Mob' dance, to the viewing of a compilation of photos showcasing their 2022 journey and finishing off with their fantastic dance floor moves.
It was truly a magnificent and well-deserved celebration!
Back row: (l-r) Isabella O'Hare, Michaela Harper, Ellen Shields, Clare McGilligan, Katie McGilligan, Orlaith McCusker, Niohmi Murray, Orla Gribben; Middle row: (l-r) Clare Kearney, Beth Fitzpatrick, Ally Magee, Fionnuala Carr, Niamh Fitzpatrick, Cara Boden, Erin Rafferty, Erin Lively, Cassie Fitzpatrick, Tierna Savage, Sara Louise Graffin , Paula O'Hagan; Front row: (l-r) Katie Morgan, Caitlin Harper , Ursula Kearney, Lizzie Wilson , Jenna Boden , Ceallagh Byrne, Erin McAlinden, Amy Morgan.
By clonduffgac1887
Sun 28th May