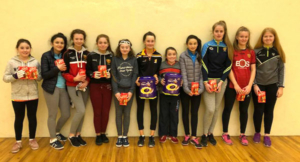 Clonduff Ladies handball U13 and U15 Easter competitions were held on 19th March.. Well done girls on some really entertaining and highly skilled games.
Obviously the prizes of Easter eggs and bragging rights brought out everyone's very competitive streaks.
Congratulations to Clodagh Kelly and Ellen Shields who came out tops in their respective ages.
40×20 starts again in October.
Keep practising and good luck with your Football and Camogie over the Summer.
By clonduffgac1887
Mon 29th Apr