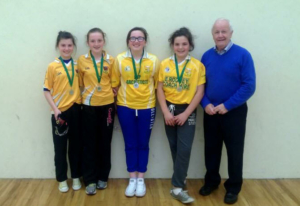 Clonduff Girls Handball U14 Feile Team that were runners up to Downpatrick in the 2013 Feile Final held in Clonduff Handball Court on Wednesday 8th May.
The girls only started playing Handball before Christmas 2012 and this is the first time ever that there has been a girls Handball team in Feile.
The team (l to r): Clara Cowan, Erin Rafferty, Molly Brown and Cara Boden with Feile Committee member Michael Keenan who gave the girls a great commendation when presenting the medals. Well done girls!
By clonduffgac1887
Mon 29th Apr