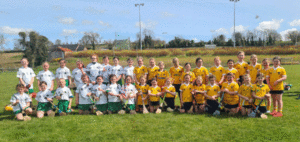 On Saturday morning, 15th April Clonduff hosted Granemore Camogie Club in a few friendlies for our P3s, P4s, P5s and P6s. It was a lovely day enabling all the girls to get plenty of matches.
The mineral, crisps and cup of tea was welcomed by all. Jenna, captain of the All Ireland winning team spoke to the girls and presented the cup. Granemore thanked Clonduff for the kind hospitality shown and praised our success on the field….something for them to aspire to.
Many thanks to all the players, coaches, Sinead and Ciara for refereeing and parents who helped to make the cup of tea and tidy up. A super effort by all. Thank you Granemore for travelling and we look forward to returning the favour later in the year.
By clonduffgac1887
Mon 24th Apr