CLONDUFF 'LIGHTS UP' 2020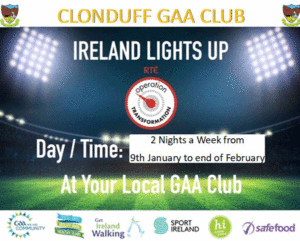 Clonduff GAA Club is now registered for the 2020 Ireland Lights Up initiative! This initiative, in conjunction with the Operation Transformation and Get Ireland Walking has been hugely successfully over the past number of years with over 270 GAA clubs and a total of 65,000 walkers taking part during 2019.
In a bid to make exercise more accessible on the darker nights, clubs across the 32 counties, including Clonduff, are once more encouraged to turn on their floodlights and host community walking groups during the broadcast period of the hit RTÉ show.
The first date for clubs to host 'Ireland Lights Up' 2020 is Thursday, January 9th, but this year clubs are free to host their walking groups any, and as many, nights of the week as they want – Clonduff will be welcoming walkers on two nights a week when Senior Camogs are training – we will keep you posted!
We look forward to welcoming you, your family and friends to walk off the turkey and all the other excesses of Christmas!