CLONDUFF U15 BOYS ARE FEILE CHAMPIONS 2021!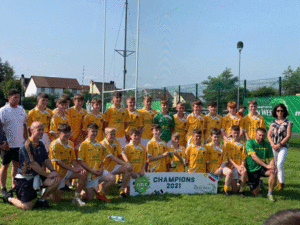 Many congratulations to our U15 boys who collected the Div 2 Feile title at Abbey CBS on Saturday 28th August 2022.
The boys began their winning ways with group wins over Bosco, Teconnght and Shamrocks to top their group so setting up a semi-final v Drumgath. This was a very close game with Clonduff emerging as 1 point victors. The final v Rostrevor was also a close affair and was also won by a single point.
Well done lads and your mentors!
Team: Tommy Smith, Fionn Matthews, Cathal Fegan (Capt), Danny McLogan, Callum Greene, Leo Sweeney, Lonan Mac Domhnaill, Eoin McCaffery, Cian McConville, Brian McGreevy, Cian Wilson, Darragh Kane, Sean McGreevy, Connor Ward, Lorcan Binks, Ryan Tweedy, Aillill Morris, Shea Morgan, Tiernan McGrath. Rory Fearon, Sean Quinn, Eddie Clancy. The boys are pictured with their team mentors Shane Ward (back left), Paul McConville (front left), Kevin McGrath (front right) and a representative of John West Feile Sponsors