CLUB DOWN YOUTH DRAW PRESENTATION TO CLUBS 2018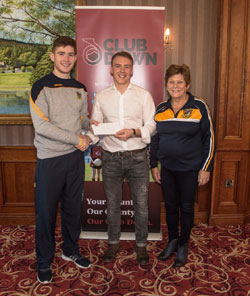 At a recent function in The Burrendale Hotel a cheque presentation was made to those clubs who participated in the Youth Draw. Club Down Chairman Ross Carr thanked the young people for their efforts – the proceeds will be invested in the Down Development Squads.
Many thanks to Charlie Carr who is the Clonduff Youth representative and for the great effort he put into selling the tickets.
Charlie is pictured with Clonduff Secretary Anita Brannigan receiving the cheque from Club Down Youth Draw organiser Daire Carr.