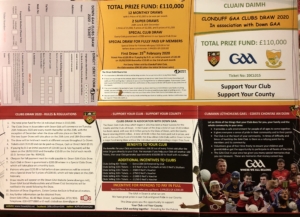 SUPPORT YOUR COUNTY – SUPPORT YOUR CLUB!
Every club in the county is required to sell 24 of the £120 tickets to cover the cost of the £110,000 prize draw! Thereafter, £96 of every ticket sold goes back directly to the club. in 2019 Clonduff earned in the region of £37,000! We would like to better that this year!
If you wish to participate in this fabulous draw and help both Clonduff and Down financially please contact our coordinator Jamie on 07763761031 asap.
Buying your Down Draw ticket gives you these additional benefits:
Full Membership of Clonduff GAA Club
Entry every month into a Draw for 2 x £50 prizes
#ifyourenotinyoucantwin