DOWN MEMORY LANE TO 1982 FROM 2020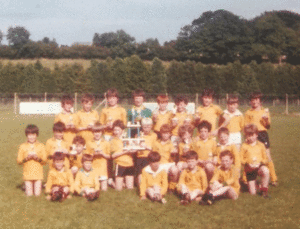 GARY MURRAY TROPHY 1982
This photo was handed to us in October 2020 – this is the original Gary Murray Trophy that the lads have won!
Back – Mark Waterson, Jim O'Hanlon, Gary Woods, Frankie Woods, Robert Wilson, Thomas McKay, Adrian Travers, Raymond Grant, Marty McCumisky.
Middle – Dermot Fitzpatrick, Paul Kelly, Aidan Morgan, Maurice Gribben, Andrew Carr, Dominic Brannigan, Sean Mooney, Oliver Morgan, Paddy Murray, Thomas McConville, Gary Morgan.
Front – Eamon Faloon, Damien Devlin, Kevin McGarry, Paddy McConville, Marty McAleavey.
Many thanks to anyone who helped identify the lads in the picture.