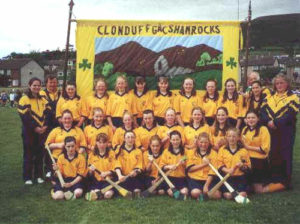 Section winners at Feile 2000 and U14 League Winners
Back (left to right) Moya Maginn, Sean Cairns, Rachel O'Reilly, Sinead McParlan, Aisling McPolin, Charlene McAvoy, Janine McAvoy, Suzanne Farnon, Jenna Lynch, Michelle McPolin, Jerry Quinn, Tanya Morgan (capt), Kitty Fegan.
Middle (left to right) Oonagh Doyle, Caron McParlan, Andrina O'Hare, Naoimh Hynes, Angela Gribben, Kerrie O'Hagan, Carol Rooney, Claire O'Hagan.
Front (left to right) Mary McPolin, Sarah Murphy, Patrice Murray, Sarah Louise Carr, Joleen Branagan, Colleen Walls Laura Killen.
By clonduffgac1887
Fri 12th Apr