FIRST-EVER HURLING/CAMOGIE KELLOGS CUL CAMP IN CLONDUFF 2019
68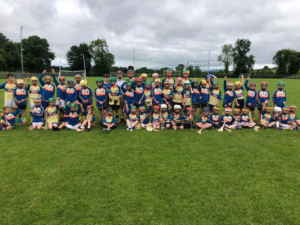 youngsters created history in Clonduff Park on Monday morning, 8th July for the first ever dedicated Kellogs Hurling/Camogie Camp. It is run by Down and Ulster coaches assisted by two young Clonduff lads – Aaron Norris and Darragh McAlinden. It runs on the same lines as the traditional football Cul Camp – a Nursery Group caters for children who have completed P1/P2 and runs daily from 10am to 12.30. The regular camp runs to 2.30 and in the Clonduff Camp is catering for children from P3 up to Year 8/9 organised into two groups.
The Cul Campers were issued with their full Kellog's Cul Camp kit on Thursday to wear for the final day and group photograph on Friday the final day.
Many of these 'Campers' will be attending the normal Kellog's Cul Camp starting at the end of July and they are entitled to a discounted rate.
Clonduff Club who have run in-house Hurling and Camogie Camps in the past hope to make the Hurling/Camogie Camp an annual event.