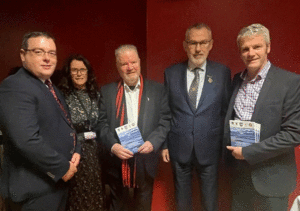 A poignant moment for Paul (our All Ireland Ballad Group winning member 2017) and his brother Patrick Kelly when they met Uachtarán Chumann Lúthchleas Gael and Scór officials at the All-Ireland Scór Sinsir Finals in Castlebar, on 12th November 2022, to mark their late mother Alice Kelly's contribution to Scór over the years.
As Alice's son Patrick says, her unflinching ambition was to involve their late sister Mary Catherine, who lived with Down Syndrome, in the culture, dance, music and song competitions.
This was rewarded when, Mary Catherine, playing bodhran reached the County Down Scór Finals in 1982 along with her mother Alice, and cousin Mary Farrell; representing St Bronagh's GAC, Rostrevor.
Paula Magee (Mayobridge) and current Ulster Scór Chair, had written a beautiful article on inclusion to that effect, (p 9 and 10) of the All-Ireland 2022 Scór Sinsir Programme. Míle buíochas, a Póilin.
From left: Tomás Ó Muirí, Chairman National Scór Committee, Póilín Mhig Aoidh / Paula Magee, National Scór Committee, Pádraig Ó Ceallaigh / Patrick Kelly, Labhrás Mac Carthaigh, Uachtarán / President of the GAA, and Pól Ó Ceallaigh / Paul Kelly.
By clonduffgac1887
Wed 23rd Nov