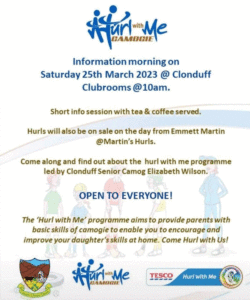 'Hurl with Me' Information Morning taking place on Saturday 25th March 2023 @ 10am in the clubrooms.
The programme aims to provide parents/guardians with basic skills of Camogie to enable them to encourage and improve the girls' skills at home.
The session will be facilitated by Clonduff Senior Player Elizabeth Wilson, who recently completed a relevant leadership course.
Everyone Welcome
By clonduffgac1887
Sat 15th Apr