LGFA MINOR C CHAMPIONS 2021
Clonduff 2-8 Castlewellan 1-4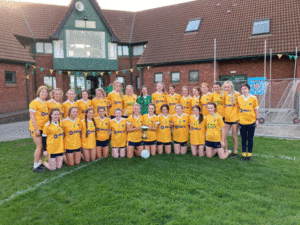 On a beautiful bright autumn day the Clonduff minor ladies took to the field against Castlewellan in the Championship Final in St Patrick's Park Newcastle.
Castlewellan commenced the scoring with a point but this was soon followed by a penalty awarded to Clonduff which was deftly taken by Orlaith McCusker. This was the start of the scoring In the first half and there were great scores from Ella-Beth Rooney and Cara Savage's fabulous goal from play.
Most of the scoring happened before the waterbreak. Castlewellan got a goal shortly after but Clonduff Ladies went into the second half leading 2-6 to Castlewellan's 1-3. Would this be enough against a strengthening breeze?
The Clonduff girls were playing into the wind in the second half and went into defensive mode. They protected the Clonduff nets keeping Castlewellan from scoring in the third quarter. The wind played havoc on the attempted scores but The sure-footed Orlaith McCusker converted two of those attempted. Castlewellan scored one point in the final quarter and with time virtually up were awarded a penalty but this was expertly saved by Níamh McGivern.
The Clonduff girls were the undoubtedly the best team on the day from the dynamic defence, the fast and furious forwards, the majestic midfielders and the brilliant bench all contributing to the prolific performances throughout the league and championship. The Clonduff girls and their management approached the season with vigour and have finished it with a well deserved double. Congratulations to one and all!
Team: Ellen Sheilds (C), Orlaith McCusker (Co-Captain) 1-7, Aoife McCusker, Tierna Savage, Blaithin Shields, Una Fearon, Éabha Ní Dhomhnaill, Eve Matthews, Ella-Beth Rooney (0-1), Grace Clancy, Niamh McGivern, Cara Savage (1-0), Deirbhile Devlin, Caitlin Devlin, Emily Bingham-Abbott, Evie Lyness-Feenan, Anna Henning , Erin Morgan, Aoife Trainor, Naoimh Gilbey, Cliodhna Murtagh, Aimee Murtagh, Éveagh Kelly, Niamh McConville, Lily Rafferty, Laura Close
Kylah Kearney – speedy recovery Kylah!
A special shout out to the management team of Damien Henning, Jimmie Devlin and Kevin Kearney often assisted by Shereen Lyness-Feenan.
And a big shout out to Pauline and the staff in The Downshire Arms who provided breakfast for the girls and management on the morning of the game.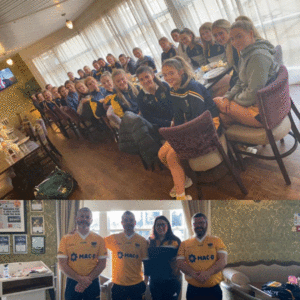 Thank you to everyone who helped make this happen, special mention to our local schools and their continued promotion of Ladies Gaelic Football in this area.
St Patrick's Banbridge Aoife McCusker
St Mary's Newry Evie Lyness-Feenan
St Malachy's Castlewellan Evèagh Kelly, Caitlín Devlin and Kylah Kearney
St Mark's Warrenpoint Cliodhna Murtagh, Emily Bingham-Abbott, Tierna Savage, Anna Henning, Laura Close and Aimee Murtagh
Our Lady's Newry Blaithín Shields, Deirbhile Devlin, Cara Savage, Eabha Ní Dhomhnaill, Ella Beth Rooney, Ellen Shields, Niamh McConville, Lily Rafferty and Naoimh Gilbey
Sacred Heart Newry Orlaith McCusker, Aoife Trainor, Niamh McGivern and Grace Clancy.