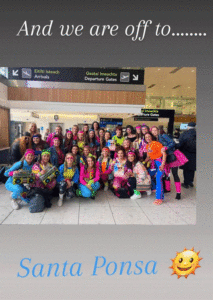 On Friday 31st March 2023, the 'Mystery' was solved! Only Fionnuala, who organised it knew the destination until that last moment! This had been in the planning since they won the All Ireland on 17th December 2022!
A wee flight to Santa Ponsa for a 2-night stay was the reward for the All Ireland Intermediate Club Winning Camogie team 2022.
The theme for travelling was 'The 1980s' and what happened after that is anyone's guess! What happened in Santa Ponsa stayed in Santa Ponsa. An that's exactly how it should be!
You deserved it all girls!
By clonduffgac1887
Sat 15th Apr