SHANNON AND JOLEEN on RTE's 'TWO TALENTED' 2021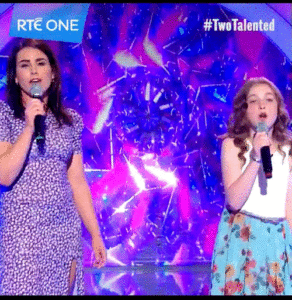 Well done and best wishes to our Young Scór singer Shannon Copeland who will appear on RTE's 'Donnacha's Two Talented'.
The show, hosted by Irish Rugby Legend Donnacha O'Callaghan, involves the talented youngster mentoring/coaching the parent to become a show-stopping star with them on stage – well that's the general idea! No doubt Shannon will do a great job on Joleen!
Shannon and Joleen will be on the Telly – RTE 1 – Saturday 13th March @ 5.15pm. Have a great time folks – we can't wait to see how you get on!