Happy New Year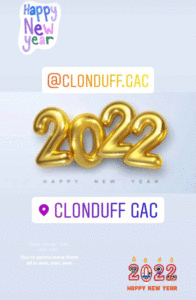 As 2021 draws to a close, we take this opportunity to thank all those who work tirelessly for Clonduff GAA Club.
To all our players, coaches and management teams – thank you for the sporting joy you have given us on the field in 2021 and we look forward to further excitement in 2022.
Thank you to all our talented Scór participants/Entertainers and all involved in promoting Scór in our club, for the cultural entertainment you continue to share with us.
To those members who are no longer with us, we hold you dear in our hearts and we continue to honour your memories.
Thank you to our hard working committees, referees, merchandise team, administrators, lotto crew, generous sponsors and volunteers who offer unwavering support week in week out – Thank you.
We look forward to your continued service and support in 2022!
Athbhliain faoi Mhaise Duit!
By clonduffgac1887
Sat 8th Jan