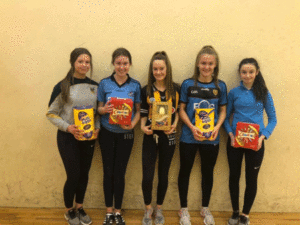 Clonduff U16 Girls Handball Tournament was as competitive as ever and after some brilliant handball from all players Ellen Shields (centre) took the honours.
Those taking part were (l to r): Ellen McKay, Ella McCumiskey, Ellen Shields, Orlaith McCusker and Blaithin Shields
All our females have improved so much in 2019 and with regular handball to look forward to in 2020 Ulster medals are very achievable.
Well done girls!
Thanks to Clonduff GAC for sponsoring the competition.
By clonduffgac1887
Tue 28th May