ULSTER CHAMPS 2014 AFTER REPLAY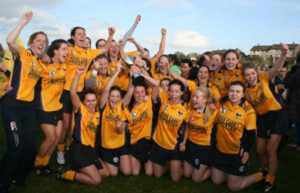 Sunday 2nd November 2014 was a very proud and historic day for the Gaels of Clonduff as our Senior Camogs became the first ever Clonduff team to collect an Ulster title in our long and illustrious history. Well done Robert, Eileen and girls!
Apparently it was a great game for the neutral spectator but not if you were either a Clonduff or an Eglish Supporter! Clonduff had the first chance but shot wide; from the puck-out Eglish collected and fired over the bar. The sides then swapped two points apiece until Eglish fired to the net and then fired over a further three points. Things looked bleak and then Clonduff were awarded a penalty which Fionnuala Carr despatched to the back of the net and this was followed by another point after Eglish had added a further two. Half time Clonduff 1-3 Eglish 1-7
Eglish got the first score of the second half but that was all they got until the dying moments of the game. With twelve minutes gone and four points down in the second half disaster struck! Young Cassie was red carded for a second bookable offence within minutes – however the first yellow card should have gone to another Clonduff player and despite protestations from both teams it stood! This, however, galvanised the Clonduff girls and by 20 minutes had levelled the game and two minutes later had moved into a one-point lead and with two minutes to go had made it two up. Eglish got one back and it was a long three minutes of injury time before the final whistle. Amid great scenes of jubilation the Player of the Match Award was presented to Sara Louise Carr and then the Ulster Cup was presented to the injured Clonduff Captain Ursula Quinn.
What a great journey home! The girls were paraded through the village and outlying areas on Paul/Paddy Mackin's lorry before returning to the clubrooms for the traditional post match meal and subsequent celebrations!
Team and subs: Kitty Fegan, Leanne Quinn, Jenna Boden, Orla Maginn, Nicola O'Hagan, Fionnuala Carr, Clare McGilligan, Lisa McPolin, Petrina Lively, Lizzie Wilson, Paula Gribben, Cassie Fitzpatrick, Karen Haughey, Sara Louise Carr, Orla Gribben, Onagh McClorey, Ursula Quinn (Capt), Debra Murray, Shannon O'Hagan, Cailín Hynes, Nohmi Murray, Ciara Tumilty, Niamh Brown
Get well soon to Ursula (injured in drawn game last week), Fionnuala Carr and Kitty Fegan – Hopefully you will all be fighting fit for All Ireland Semi Final in February 2015!